TALK TO A LATHAM HAIR RESTORATION PROFESSIONAL & GET ALL YOUR QUESTIONS ANSWERED
Non-Surgical Hair Replacement FAQ
Non -Surgical Hair Restoration FAQ
Q: My hair is thinning and I don't want surgery. What can I do?
A: There are many non-surgical hair loss treatments available to you, including our exclusive hair replacement procedures. We will discuss each option with you, make a recommendation based on your individual needs, degree of hair loss, lifestyle, and other factors, and help you choose the solution with which you feel most comfortable.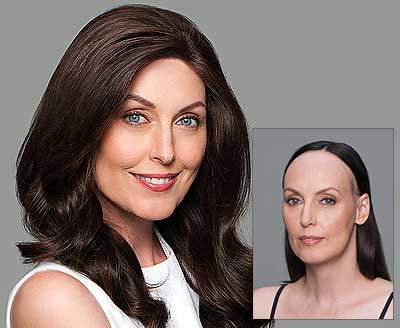 Q: What is the main difference between surgical and non-surgical hair restoration?
A: Non-surgical hair replacement procedures guarantee a significant increase in hair density, and require no donor area, nor are their success rates dependent upon the texture and curl pattern of your remaining hair. Additionally, a Steve Latham custom non-surgical hair replacement can be used to provide additional hair to men and women who have already undergone hair transplant surgery.
Q: I'm a very active person. Can I still participate in sports?
A: Yes, the purpose of hair restoration procedures is to allow you to do the things that you stopped doing because of your hair loss, such as swimming, boating, water skiing and even riding your Harley.
Q: My father had one of those hairpieces that he took off every night. And I remember my Grandmother wearing one of those awful heavy wigs that never moved. Is this the same thing?
A: Absolutely not. With today's modern state-of-the-art hair restoration, your new hair cannot come off and it will actually become a natural part of you. It will not only look natural, but it will feel natural as well.
Q: Are there any limitations on the hairstyle I choose, or how I can comb my hair?
A: You can comb your hair any way you want, even straight back, revealing a totally natural front hairline.
Why Choose Steve Latham Hair Transplant Clinic?
When it comes to what many have called the most important self-improvement decision of a lifetime, it is important to seek the services of professionals with a great reputation and whom you can trust.
Each of our hair replacement and restoration procedures is custom designed for your unique hair replacement needs. We invite you to contact us for expert hair loss advice in a private, professional hair loss consultation or via an email response to your hair loss inquiry with complete confidentiality.
GET ANSWERS TO YOUR QUESTIONS
Hair loss and thinning hair can be emotionally traumatic and affect how you see yourself and how you react to others. For over 35 years, we have been helping men and women restore not only their hair, but also their confidence and their smile.
Whether you are experiencing thinning hair and want to stop your hair loss, or want more hair, we offer the latest clinically proven hair loss treatment and hair restoration solutions for men and women of all ages and hair types.
We want to help you find the hair loss solution that is right for you. Contact Steve Latham Hair Restoration Clinic in Huntsville today to schedule your free, private consultation.
Get Answers Today
RESTORE YOUR HAIR. RESTORE YOUR LIFE. Schedule a free, private consultation today.